Our Great Friend Lindsay Lohan is wanted by police in Beverly Hills, by Robert Paisola
Though police haven't revealed why the 22-year-old actress is facing arrest, a warrant was issued on Friday (see CNN Coverage) by a Los Angeles Superior Court Judge. Beverly Hills Police Sgt. Mike Foxen has publicly implored the actress to "turn herself in."
Lohan has been relatively free from the public's scrutiny since a whirlwind series of arrests in 2007, including a conviction for a DUI and a separate cocaine possession charge. She is currently on three years probation for her offenses.
Hearing Set for Monday
Lohan faces a hearing Monday morning in a Beverly Hills courtroom. "The hearing apparently involves her probation," L.A. County District Attorney spokeswoman Sandi Gibbons tells Robert Paisola. "The judge apparently has indicated that Ms. Lohan should be in attendance."
According to Michael Rosenstein, an L.A. criminal defense attorney not involved in the case, an arrest warrant could have been issued "for anything as small as failing to report an address change to the court to failing to complete a DUI class."
Calls to Lohan's attorney, Shawn Chapman Holley, weren't immediately returned.
Wild Hollywood Night
Lohan was spotted at the Chateau on Friday night, where she arrived around 8 p.m. with three female friends. Clad in a loose black top adorned with sequins, she seemed in an upbeat mood during dinner at a patio table, according to eyewitnesses. She laughed, chatted and texted on her phone. Lohan dined on soup and opted for water and an unidentified drink in a cocktail glass while her friends had red wine, hung at the West Hollywood hotspot well past 11.
Around 1:45 a.m., Lohan showed up at the Hollywood home of actor Jack Nicholson. Witnesses say Lohan, accompanied by pals, buzzed the intercom numerous times and grew agitated asking for "Jack" to open the gate of the residence on Mulholland Drive. The group was eventually let in, and Lohan remained inside until a bodyguard picked her up about 4:30 a.m. (Representatives for Nicholson could not immediately be reached for comment.)
Lohan's bodyguard then brought her to the home of girlfriend Sam Ronson, where she remained as of late Saturday morning. Ronson apparently spent the night elsewhere, returning to the house around 11:30 a.m.
Lohan's publicist and manager have yet to comment on the arrest warrant, but we're hoping she doesn't turn herself in. Let's face it, her lesbian romance with Samantha Ronson is rather dull at this point, and it's been far, far too long since the last time we heard anything interesting coming from the Lohan camp.
So, Lindsay, if you're reading this, please do us all a favor and ignore the police. You still have some money in the bank and could clearly hide out in New York or Miami for a while. Why stop after a simple arrest warrant when you could be exciting the public by evading arrest or, better yet, fleeing the country? It would be the coolest thing you've done in a long time.
Luckily for the rest of us, even if the cops nab you, your subsequent trial will be the celebrity event of the summer.
We will follow this story as it develops out of Beverly Hills, California.
This is the Latest from CNN Los Angeles on this story:
(CNN) -- Beverly Hills, California, police want Lindsay Lohan to turn herself in on an arrest warrant issued Friday.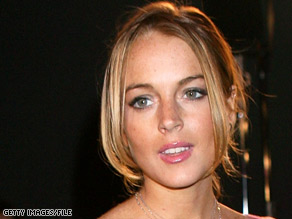 Lindsay Lohan was placed on three years' probation after being convicted of drunken driving in 2007.
A police official told CNN on Saturday that officers will be on the lookout for the actress-singer until she does so.
It wasn't clear why Lohan was being sought, but the warrant, issued by a Los Angeles Superior Court judge in Beverly Hills, apparently stems from her 2007 convictions for drunken driving, Beverly Hills police Sgt. Mike Foxen said. She is serving three years' probation for those convictions.
"We're hoping that she will turn herself in," Foxen said.
Calls to Lohan's publicist and manager have not been returned.
Once arrested, Lohan, 22, could go free after posting a $50,000 bond, Foxen said.
Lohan was arrested twice in 2007 on driving under the influence charges, with a cocaine possession charge in the second incident.
The first arrest in May came after Lohan lost control of her Mercedes-Benz convertible and struck a Beverly Hills curb.
Just two weeks after checking out of a Malibu drug and alcohol rehab facility, she was arrested again in July 2007 after a woman called Santa Monica police saying Lohan was trying to run her down in a car.
A judge sentenced Lohan to three years' probation after she entered guilty and no-contest pleas to the charges. She served less than two hours in jail.
Lohan's acting career, which started at age 10 on a soap opera, took off on the big screen a year later when she played identical twins in Disney's "The Parent Trap."
Since then, she has starred in at least a dozen movies, including "Mean Girls" and "Georgia Rule" with Jane Fonda in 2007.
Her pop music recording career, boosted by her movie roles, has floundered. She last released an album in 2005.
Lindsey Lohan has spent a lot of time in Utah, Owned a home in Sandy, Utah and this author is attempting to contact Lindsey.
Reporting Live from Salt Lake City, Utah
This is
Robert Paisola
for Spike TV and CNN I Report